What kind of "products" do you expect to see advertised in spam? Pills, low credit rates, school degrees, fake watches, pirated software? Right… The relatively cheap, often illegal stuff that is still in high demand amongst certain individuals, apparently.
How about buying something more valuable through spam for a change? Like a factory for cast iron production? That's exactly what was offered today in one of the Russian spam campaigns: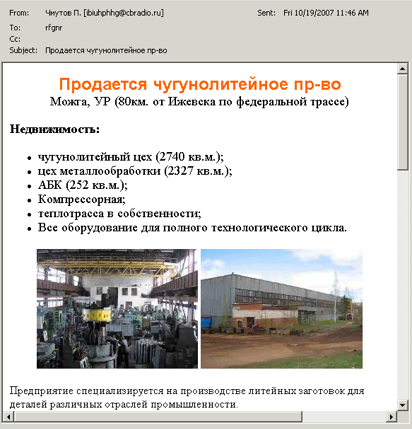 So, if your aspiration is just like mine — to become a Russian "oligarch" one day :), you only need 25 million rubles (~1 million US dollars) to give this idea a start. Just pick up a phone and dial that number at the bottom of the e-mail.
Needless to say that the message was sent unsolicited to millions of people in the world. Many of them can not even read Russian to see what a great opportunity they are missing. It was sent through infected PCs and had other common attributes of spam you'd expect to see.
When I think about it, I believe that unlike the spam that sells enlargement pills or pumps the stock prices, the majority of today's Russian spam could be eliminated or reduced through legislation. The Russian businessmen who hire spammers to advertise their products and services represent legitimate businesses and aren't hiding. Many of them might not even realize that what they're involved in is wrong and illegal in many countries. Making this form of "marketing" outlawed in Russia would have made it much less attractive than it is today.