In SophosLabs, we constantly observe a steady stream of money mule/Nigerian scam campaigns. Usually these emails offer some part-time position to "process money from our overseas customers" or that some grant/prize money from a charity/lottery is coming along. Today however, we received an interesting one. This scam is purported to be from American Red Cross (but with a .cn email address) and offers a job to be a "donation collector". The nature of the "job" is to accept and ship donations to people in need for various EU projects.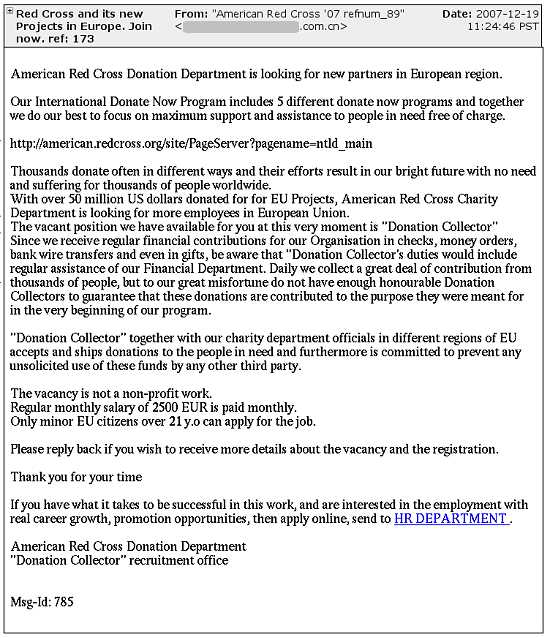 The scammers obviously didn't think this one through. The American Red Cross probably doesn't need any money processor/distributors in EU because it is a part of the International Federation of Red Cross and Red Crescent Societies, which includes over 50 partner societies in Europe alone.
They also didn't pay attention to their writing either, and proceed to offend their intended victims with the requirement that "Only minor EU citizens over 21 y.o can apply for the job." I guess "Major" EU citizens need not apply.
All these glaring mistakes aside, the victims who fall for this scam are the people who glued their eyes on the compensation salary of 2500 Euros (~$3,500 US/CAD) per month – that's a pretty decent amount of change anywhere in the world.