Based on the previous few postings about Dorf-based male enhancement campaign [1] and malware infested Powerpoint files [2], it seems like the post-Christmas/pre-Valentines period is the time to spam out adult-themed material. Today's example is an illustration of how far (or creative) spammers will go in order to sell their products: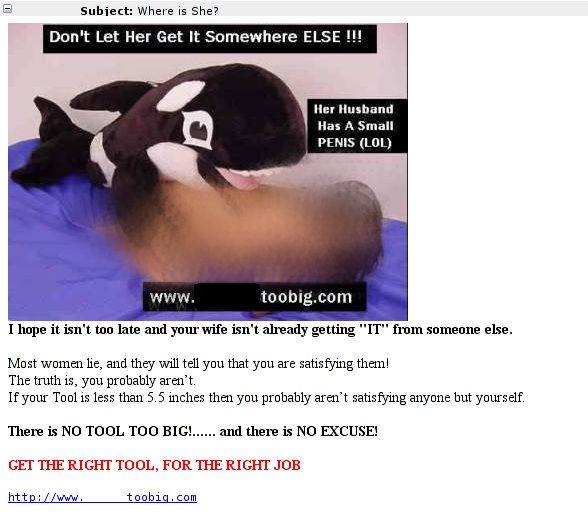 This time, the spammers decided to stroke the male ego by comparing the male genitalia to that of a whale. As a little side trivia, whales have the largest genitalia amongst all mammals. To illustrate the point, they use a large smiling plush male along with a model. That image, along with the bold letters screaming "GET THE RIGHT TOOL, FOR THE RIGHT JOB" sure help catching the attention of the unsuspecting individual.
Hopefully, receivers of this email are not too eager to purchase the advertised product or click on the links. It is very possible that the products are detrimental to the health of an individual. Also, credit information might be stolen and malware installation could take place.
As it has been said many times, one should always adhere to safe computing practices.