I've had a number of queries recently about the Secunia website.
Secunia is provider of security and vulnerability research and information, and one of the lists of data they provide is a chronological list the latest viruses and malware such as this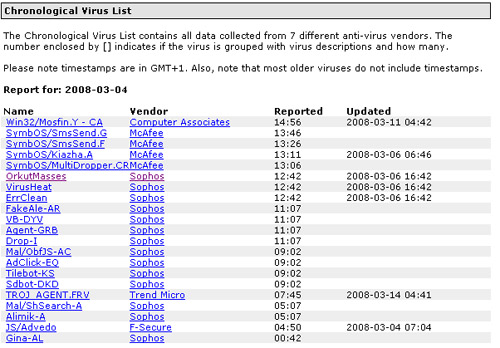 However, eagle eyed customers and prospects have noticed that Sophos have not appeared in any of these lists since March 4th. This is the date when we launched the updates to both our alerting process (we now send a summary email at the end of the day, rather than an email every time we send out and update) and our web site.
Unfortunately, the team at Secunia were relying on certain pages on the Sophos website being available so their method for updating their own website has broken. I've been in contact with Secunia and they hope to resolve the issue soon.
In the meantime, if anyone wants to know what updates have been sent out in the last 24 hours it can be found here, or better still if you wish to receive a daily summary of protection provided here. Or get all the latest information via our various RSS feeds.
*** Update ***
The Secunia website is now back to normal