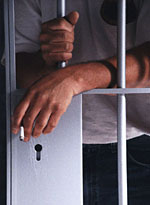 The 30th anniversary of the first ever spam message certainly isn't worth celebrating (although the video is a lot of fun), but news that another big spammer has bitten the dust is a good reason for a party.
Edward "Eddie" Davidson, was sentenced earlier this week to 21 months in a federal prison, after he was found guilty of tax evasion and falsifying email headers.  37-year-old Davidson, who is believed to be responsible for hundreds of thousands of spam messages, was also ordered by US District Court Judge Marcia S. Krieger to pay $714,139 to the IRS.
Davidson's Colorado-based company, Power Promoters, marketed a variety of different products in its spam emails including perfume, luxury watches and also tried to manipulate the stock market with pump-and-dump scams.
For almost five years, Davidson ran his spam operations from his house in Bennett, where he hosted a computer network, before authorities put a stop in his actions in April 2007. According to the authorities, Davidson made at least $3.5 million from his spamming activities.
Will this put other spammers off their illegal activities?  It seems unlikely that most will care, as they continue to rake in money through their criminal activity.  The fact is that Davidson only sent spam emails because it made him money – if more people didn't buy goods advertised via spam, he would probably have found something else to do with his life… and perhaps wouldn't be looking at a future diet of bread and water.