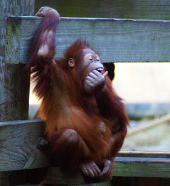 # Someone told me it's all happening at the zoo.. #
File this one under "bizarre".  Officials at Houston Zoo have called in the FBI, after a bizarre spam of SMS text messages caused their phone switchboard to be swamped.
According to a report in the Houston Chronicle, the zoo's main switchboard has been bombarded with calls since late April.  Receiving ten times the normal number of calls is no fun, particularly when the phone callers are not asking about zoo opening hours, or wondering how to adopt a penguin, but instead following up an unsolicited text message they have received.
The tidalwave of phone calls have been prompted by a cryptic SMS message that cellphone owners have received.  The following messages are reported to have been sent:
"Somebody talking down on you,  look for them"
"Hey y is someone calln me and lookn for u n askn me where r u at n where u live heres tha # tell then to stop calln me"
The message is followed by Houston Zoo's main switchboard number (which, as I'm feeling kind, I'll choose not to reproduce here).
Brian Hill, a spokesperson for the zoo (How do you get to be a spokesperson for a zoo? What kind of fantastic job is that? In a bizarre reversal on Dr Dolittle you would be actually talking for the animals! Anyway, I digress..), has called on people who receive the mysterious text message not to call the number.
At the moment it is unclear what the motivation behind the sending of the messages could be.  It's possible someone has a vendetta against the zoo (I have visions of a parakeet who failed the entrance audition), and has decided to initiate what is effectively a denial-of-service attack against the zoo's phone system.
Similar tactics have caused problems for organizations in the past.  Long term readers of the Sophos website may remember the case of an email claiming that the receipient had had their credit card debited for an Apple iPod, only to find that the phone number to query the order was for the Cambridgeshire Police Force.
* Image source: B&M Photography's Flickr photostream (Creative Commons 2.0)