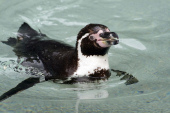 # Orang-utans are skeptical of changes in their cages, and the zookeeper is very fond of rum #
Yesterday, I told you about the shenanigans that have been troubling the lovely people at Houston Zoo.  They have been bombarded with phone calls after a nuisance text message was sent to thousands of people telling them to call their main switchboard.
I'm indebted, therefore, to veteran security commentator Steve Gold who has been in touch to tell me that Houston is not the only zoological park to have been on the receiving end of such a prank.
According to the Irish Independent, the switchboard of Dublin Zoo similarly reached thermal death point in late April after at least 5000 people were spammed an SMS text message to their mobile phones telling them to ring a number urgently and ask for a fictitious person.  The number was, of course, that of the main phoneline to Dublin Zoo and the fake names all animal-related (Rory Lion, Anna Conda, C Lion or G Raffe according to the news reports).
Amongst all the intrigue it's important to remember that there is a serious point here.  Spamming a lot of people via text message appears to be an effective way of generating a flash-flood denial-of-service attack against the telephone system of someone you don't like.  As mobile operators give more and more "free texts per month" as part of their calling-plans maybe we'll see more spammers using SMS to clog up phonelines.
Regardless of the motive, it all seems rather bizarre – surely the Dublin and Houston Zoo incidents can't be unrelated?  What is odd is that zoos appear to be the focus of attacks so far.  Could it be that the Nigerian 419 scammers have given up trying to send us $1.5 million inheritances and are now being paid by sub-Saharan safari parks to put European zoos out of business?  If you have any ideas then please let me know.
Readers who have a love of flightless birds with comedy walks will be pleased to hear that you can adopt a penguin via the Dublin Zoo website.
* Image source: MmMmMmMatt's Flickr photostream (Creative Commons 2.0)