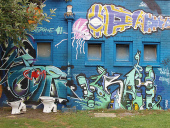 In these days of one new malware-infected website being discovered every five seconds, it's easy to forget that not all web hacking is done for financial gain.
This weekend, Spanish police arrested five teenagers suspected of hacking and defacing thousands of websites. Victims are said to have included government agencies in the USA, Latin America and Asia.
According to the Spanish authorities, the suspects – two of whom are just 16 years old – are members of the "D.O.M Team", a prolific gang which has been blamed with planting messages on third party hacked websites.
The gang, most of whom originate from Latin America, are said to have been investigated following an attack earlier this year on a website belonging to political party Izquierda Unida in the aftermath of the Spanish general election.
Media reports indicate that the five alleged hackers claim that they were only trying to highlight security weaknesses in websites.
It's terribly old-fashioned to be breaking into websites simply to plant offensive messages about politicians. In many ways it's like graffiti on the side of buildings and across advertising hoardings. But even though money doesn't appear to have been the motivation behind these attacks they still cost money for the organizations who need to work quickly to clean-up their sites and secure them better in future.
Other young computer fanatics might do well to learn a lesson from this case – just because you aren't aiming to commit identity theft or launch denial-of-service attacks there's no excuse for hacking into someone else's website. If you do find a vulnerability don't exploit it by hacking in and planting messages – instead contact the company concerned and work with them to solve the problem.
* Image source: kamshot's Flickr photostream (Creative Commons 2.0)