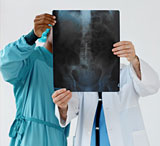 Apologies to regular readers but it's going to be all quiet on the blog front for a couple of weeks, as I have to nip into hospital for an operation and then take it easy for a short while.
So, if you receive an email in the next two weeks claiming to come from me, saying that I am delighted to inform you that you have been identified as the natural heir of Mariam Abacha's huge personal fortune – treat it with suspicion. I ain't emailing anyone for a while.
Normal service on the blog front should be resumed by July.