We got something a little unusual in our spam queues this afternoon. It's not often we see phishing emails supposedly from Sir Alex Ferguson himself. 
Dear Manchester United Fan,
We are please to inform you that, you have been given the opportunity to open a Manchester United football club account.We have come to realize the benefit of our fans in Europe, Africa, North America, South America, Asia and other part of the world, that while Manchester United football Club are willing to Share 8 Billion to our fans who are willing to invest in this promo. Offer will closed on the 14th of June 2008.
OPEN AN ACCOUNT WITH MANCHESTER UNITED FC CLUB TODAY, AND GAIN A TOTAL SUM OF 3,000 OR 300,000. WHEN EVER THE PLAYER YOU WISH TO INVEST ON SCORE A GOAL IN ANY MATCH, A TOTAL SUM OF 3,000 OR 300,000 WILL BE TRANSFER INTO YOUR BANK ACCOUNT. MANCHESTER UNITED FC ATM CARD WILL BE DELIVER TO YOU WHICH WILL ENABLE YOU WITHDRAW ANY INTEREST FROM YOUR MANCHESTER UNITED FC/HSBC BANK ACCOUNT.ENGLAND
Yours sincerely,
Manchester United Manager
Sir, Alex Ferguson

Copyright, Manchester United Ltd, 2008 Investment Promo by Manchester
United Ltd and HSBC Bank

The links have been removed from the above email text, but should you be tempted to sign up I think one look at the site you're taken to would convince you otherwise. As far as I know World of Warcraft doesn't sponsor United 😉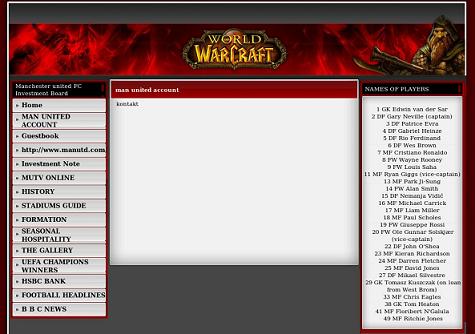 We've recently seen Manchester United's name used in Viagra spam, and it looks like it might be an idea that's catching on.