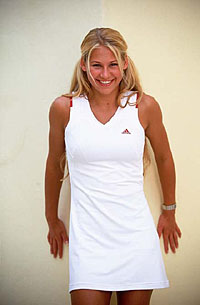 SophosLabs is identifying more and more websites all the time which are being poisoned with SQL injection attacks.
The latest high profile site to catch their attention is the Association of Tennis Professionals, which is carrying scripts designed to infect visiting Windows computers with spyware.
Of course, the fact that the Wimbledon tennis tournament started this week is likely to mean that more people than ever are visiting the site for information, gossip and the latest scores.
Of course, this is not the first time that tennis fans have been on the receiving end of a malware attack. 
For old time's sake, here's a picture of the teutonic tennis temptress who inspired Jan de Wit, the author of the VBS/SST-A worm (better known as 'Anna Kournikova') in 2001.
It's extraordinary really how the malware scene has changed in the intervening years. Back then a virus like Kournikova was all about electronic graffiti and kids showing off to their pals – now it's gangs purloining identities and creating botnets of computers to steal money and spam the world.