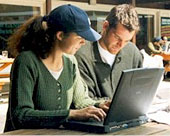 We've all heard the expression "in a blink of an eye", but when it is connected to the loss of expensive computer hardware containing your company's confidential data it becomes a startling statistic.
PC World reports that over 12,000 laptops are lost every single week at US airports. My rudimentary maths skills tell me that that's just over one laptop mislaid every minute (and that's assuming that all airports are open 24 hours a day, seven days a week!)
Research conducted by the Ponemon Institute has revealed that computer laptops typically lost at security checkpoints. Over 10,000 laptops are reported lost every week at 36 of America's largest airports. Another 2000 are recorded missing at medium-sized airports.
What's perhaps most interesting to us is that 53% of people said that their laptops contained confidential business information, with two thirds having taken no measures to secure their data.
We're all human, and can make mistakes. The hustle and bustle of an airport just makes it so much easier to lose track of your laptop, or forget to pick up all your bags once you have finished your cappuccino.
It's important for IT security teams to recognise that accidents happen, and reduce the potential for harm should the worst occur. If you have business travellers inside your organisation then chances are that sooner or later someone will lose their laptop, or have it stolen from them, so make sure that you have secured mobile devices properly with passwords and encryption.
If it doesn't happen at the airport, maybe it will happen on a train, a bus, or an employee will have carelessly left their laptop in a car which gets broken into..
You don't really want your company to be the next one making the headlines for losing customer data as well as a laptop, do you?