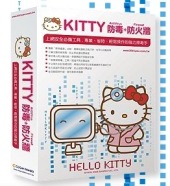 I thought I had seen it all.
I've been working professionally in the anti-virus business since January 1992, and in that time I've seen anti-virus companies quote the Moomins in their press releases, produce a rap song video and even convince young women to dress up as Melissa, ILOVEYOU and Anna Kournikova.
So it takes quite a lot to make me do a double-take. With that in mind, ladies and gentlemen, let me introduce you to.. drum roll.. Hello Kitty Antivirus and Firewall Software.
Now, I'm not really sure what Hello Kitty actually is, as it hasn't really reached the corner of Oxford where I live – is it somehow an homage to Miffy the rabbit? But I am reliably informed that whatever the Hello Kitty phenomenon is, it appears to be huge.
Should Sophos be quaking in its boots at this new competitor? Perhaps not. I can't imagine the large corporations and organizations we defend rushing to protect their networks with a cartoon kitten.
What next? A Hello Kitty operating system? After all, there are already Hello Kitty laptops…