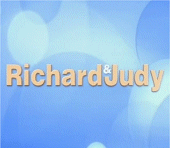 "Richard & Judy" is a British TV phenomenon.
Imagine "Oprah" mixed with "Live with Regis & Kelly", with a twist of "Alan Partridge" and you're only just beginning to scratch the surface of the unmissable, unique and heart-warming show that is broadcast on Channel 4 every teatime.
Richard Madeley and Judy Finnegan are a husband-and-wife team who have worked together for donkey's years on UK television. Like those two other stalwarts of British TV, "Ant and Dec", they are known just by their first names, and you would be disorientated if you ever saw one without the other.
As an expert at Sophos I am lucky enough to be regularly rolled out in front of the media to try and explain the complexities of viruses, spam, spyware and.. in this case.. Facebook identity theft and online defamation.  I appeared on the show earlier this week alongside a young woman called Kerrie Harvey. 
Kerrie had the ghastly experience of having a fake profile with her personal information posted on Facebook giving her occupation as "prostitute" – obviously created by an anonymous coward who had a grudge against her.  Poor Kerrie found Facebook rather disinterested in helping her find out who had been responsible, as she told the husband and wife team on TV. If you're interested, there is more information about Kerrie's experience in this media report from the Daily Mail.
But I suspect you're not interested in all that. What you're probably really after is the behind-the-scenes gossip from the Richard & Judy show, right?
Well, I can report that Richard Madeley and Judy Finnegan are charming.
Richard is full of energy and bounding about after the show, happy to mingle with us "civillians" as we gulp down a glass of the production company's finest wine and munch on another crudite, and chat about this and that. You get the feeling that he's a guy who is not afraid to share his opinion (probably a good thing for the kind of TV show he presents).
Judy was quieter and more tired after the show, and seemed genuinely charming. I must admit that I was guilty of a little celeb-style air-kissing…
Also on the show were former British prime minister Tony Blair's wife, Cherie, who was talking about gun crime and after the show was just as you would imagine if you have ever seen her on television. I also spent a lot of time chatting to comedian Robin Ince, who seemed like a smart chap (what qualifies as a smart chap in my eyes? someone who agrees with me?). Oh, and I got flirted with by Dame Eileen Atkins while in make-up.
Seeing as Dame Eileen turned down an indecent proposal from Colin Farrell when she was seventy, I am considering that a definite result.