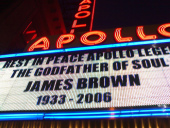 Fraser Howard, one of the principal virus researchers at SophosLabs, has blogged about a new malware campaign that has been spammed out using sensationalist subject lines to lure people into clicking on a link to a malicious website.
Email subject lines like "Elton John dies in a rocket ship", "Pope killed by assasin (sic) in Vatican City" and "Freak accident causes Tom Cruise to be paralysed" might be enough for some people to be tempted to click on the link for more information, but not me – and hopefully not you.  After all, this isn't a novel trick for the bad guys, they have been using this kind of social engineering hustle for years.
But one subject line did stand out for me amongst all the others: "James Brown dies of heart attack".
What the hackers are trying to do in this case, is lure fans of the Godfather of Soul into wanting to click on the link, but there's only one problem.  This isn't news. It's like sending out a malware campaign with subject lines like "Earth is not flat", "Moon is not made of cheese – official" or "Exercise is good for you".
James Brown died on Christmas Day, 2006. Which means malware authors in 2008 clearly aren't being as topical in their latest campaigns as we thought. They really need to do their research better next time.
* Image source: bwalker's Flickr photostream (Creative Commons 2.0)