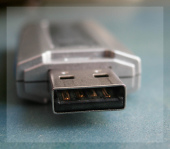 With apologies to Bob Hope..
# Thanks for the memory sticks,
The secrets that we stole,
Suggest you've lost control,
Of staff who are lax with laptops, and the rules you extol…
We thank you so much #
One of the hot political news stories in the UK this weekend, is that the British government has revealed that 747 laptops have been lost or stolen from the Ministry of Defence in the last 4 years, 400 more than originally reported. Defence Secretary Des Browne was forced to issue the revised figures after "anomalies in the reporting process" were discovered.
In addition, 121 of the MoD's USB thumb drives have been taken or misplaced since 2004, 26 of which disappeared since January this year, including three that contained information classified as secret and 19 that were categorised as restricted.
One has to wonder how carefully controlled the use of USB memory sticks is within sensitive government departments. These devices are so small, so convenient, and have so much more storage space on them these days. It's no wonder that many companies are looking to control access to USB ports, and examining data to assess its sensitivity and encrypting it as appropriate, to prevent this kind of incident from occurring in their organization.
Read: "Secrets missing as MoD admits 750 laptops have gone" in The Times.
 * Image source: Nedko's Flickr photostream (Creative Commons 2.0)