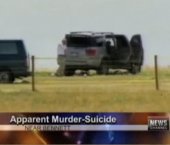 The story of spammer Edward "Eddie" Davidson, who escaped from a federal prison at the weekend, has a tragic ending.
According to the Associated Press, the dead bodies of Davidson, his wife Amy Hill, and his three-year-old daughter, have been discovered by police, having suffered from fatal gunshot wounds.
A teenage girl, believed to be the child of Davidson or Hill, has been taken to hospital with a gunshot wound to her neck. Edward Davidson's infant son, about 7 to 8 months old, was found unharmed in the back of the Toyota car used for the convicted spammer's escape from jail on Sunday.
More information can be found in reports from 9news.com and Fox News, Colorado.
Our sincere condolences to the family and friends of those concerned at this very difficult time.