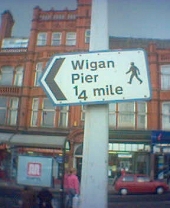 When you see as many spam and phishing emails as we see in SophosLabs each day, it's all too easy to forget the human consequence of all this unwanted junk.
The sad truth is that people are being conned into handing over their bank account information, PIN numbers and credit card details 24 hours a day. And for the criminals working behind the scenes on these scams, it's an industry that is keeping them in clover.
Although many of us may simply hit the delete button, or purge our quarantine of messages identified as unwanted spam, it's probably worth while every now and then reflecting on the human cost of some of these malicious campaigns.
Today I read the story of Sarah Smith, a 29-year-old mother from Wigan, England. Sarah has been left with thousands of pounds worth of debt after phishers raided her bank account of £1,800 and extended her overdraft to a hefty £2,500.
Sarah, who has a 16-month-old daughter, claims that just before she went on a two week family holiday to Spain, she received a phishing email at work, asking her to update her online banking passwords.
According to local media reports, Sarah's bank told her that she is liable for the overdraft – leaving the single mum with a large debt.
According to the report in "Wigan Today", Sarah knew nothing about identity theft:
"I didn't know anything about phishing. I do now, I know everything there is to know about it, I just didn't have any reason to believe I wasn't on that website. It was identical."
Clearly more needs to be done to raise awareness amongst the general population about computer security. Not just about the danger of phishing emails, but also how to defend your PC properly with the likes of firewalls, security patches and up-to-date anti-malware software.
GetSafeOnline is one of the better websites I have found which describes in simple, easy-to-understand, non-nerdy language how the average person in the street can better protect their personal computer.
If you have any other suggestions on good educational websites about computer security, or indeed how these sites might be better publicised, please let me know.
And what happened to Sarah? Well, it is reported that she has lost all the money that she intended to use to furnish her new home with her baby girl, and is currently living with her parents.
* Image source: Kokeshi's Flickr photostream (Creative Commons 2.0)