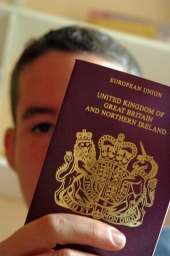 First – the good news.
Although some 3000 British passports have been stolen from an unlocked van (the driver, apparently, was nipping into the newsagent's for a bar of chocolate), they were blank and contained no information about members of the public.
More good news: The driver's assistant, who was still in the van when it was hijacked in Chadderton, Greater Manchester, only suffered minor injuries, despite having his head smacked against the dashboard by the robbers. We hope he makes a speedy recovery from what must have been a traumatic experience.
But there is some bad news. Even though the passports were blank, and did not contain the micro chip used as a security check at British airports, they can still be used for fraud and have a value on the black market.
BBC Radio Five Live invited me onto one of their news shows today to talk about the incident, and explain how even though such passports might not be able to get you onto a plane at Heathrow, they could be used for other fraudulent purposes.
For instance, a blank passport could be printed on, and used to help a criminal open a bogus bank account, or to claim they are someone else. Furthermore, although British ports do electronic checks of passports that scan the embedded chip – this is not necessarily the case everywhere overseas. All we can hope is that this was an opportunistic crime to steal a van, rather than an attempt to specifically steal passports from the authorities.
This is just the latest in a line of embarrassing incidents for the British government, which most infamously lost personal details of 25 million citizens late last year. No doubt some questions will be asked as to whether enough is being done to ensure sensitive material does not fall into the hands of criminals.
* Image source: Orangejon's Flickr photostream (Creative Commons 2.0)