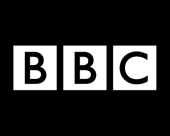 14:29 Magnus at BBC News calls me, and asks if I would be able to be interviewed about the Gary McKinnon case. I ask if this is for TV or radio, and he tells me it's for the national six o'clock TV show on BBC One. This is important as I'm wearing a grotty old rugby shirt and jeans – if he wants me on telly I may have to smarten myself up a bit.
Magnus asks if I can get to the TV studios at BBC Oxford easily. I say sure, I've been there lots of times. "Although really we'd prefer it if you came to TV Centre in London," he mutters to himself. "Would you be able to make it down the A40 to us?". I confirm that for Aunty Beeb I'd be happy to do that. He says, "Let me talk to some people and I'll get back to you."
14:32 I call Mrs Cluley, and ask that she digs out a jacket and a shirt just in case I need to race past en route to a studio.
14:43 Magnus calls back. It's a go-go-go. "Can you leave right now?" he asks, "We want you at BBC Oxford for half past three." That might be a bit tricky, I'm thinking, as the traffic in Oxford is unpredictable and my car – she's called Audrey – isn't the fastest beast on earth. Magnus gives me his phone number in case I have any problems.
14:45 I've logged out of Notes, turned off my PC, and am skating out of Sophos's offices. I realise as I get into the car that I forgot to bring Magnus's number with me – oh well.
15:06 I've arrived home, grab a jacket and shirt, kiss the wife, and skidaddle off again.
15:27 Audrey and I arrive at BBC Oxford – they have a staff carpark around the back and I pinch one of the spaces reserved for BBC fleet vehicles. I'm sure they won't mind – and parking in Oxford is normally pretty stressful.
15:29 Magnus from BBC News central command in London calls me on my mobile, "Where are you?". Right here, I reply feeling the conversation is going somewhere quite existentialist. Magnus tells me that he has a question that he wants me to answer on film. He hasn't been able to get hold of the person who is going to be filming me – so it's my job to remember the question, and make sure it's asked.. and answered. Oh, the pressure.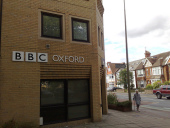 15:30 I walk through the front door of BBC Oxford – phew! on time – and the receptionist asks who I am there to see. He gives me an identity badge and thankfully doesn't ask too many questions about where I've parked.
15:35 Claire appears, with a big rucksack on her back and a tripod under her arm. These days BBC "producers" are supposed to do all their own filming, editing, writing, sound-recording.. they're like a one-man band. She tells me that we're going to the nearest churchyard. It's a sunny day, so I'm not complaining. While we're walking she asks me what the story is about, and what on earth this Gary McKinnon chap has done.
15:40 We're in the churchyard in Summertown, one of the poshest parts of Oxford. She doesn't want the church in the background ("not high tech enough"). She sets up her tripod and asks if I'm going to be okay looking so directly into the bright sunshine (did I mention it is a glorious day?). I say it's not a problem, as I have quite piggy little eyes anyway.
15:42 Having told me to button up my jacket and straighten my collar Claire begins to film me talking about McKinnon. But over the churchyard fence someone has chosen that precise moment to mow their lawn. The noise ruins the recording. Claire runs in the direction of the cacophony and shouts for them to quieten down for a bit. "This is the BBC!", she exclaims to no avail.
15:46 It's briefly quieter, so we go for another take. Claire says it's fine as they'll probably only use 10 seconds of me anyway.
15:47 All done. Claire packs up her stuff and we say our fond farewells. Audrey the motor car and I drive back to Sophos HQ.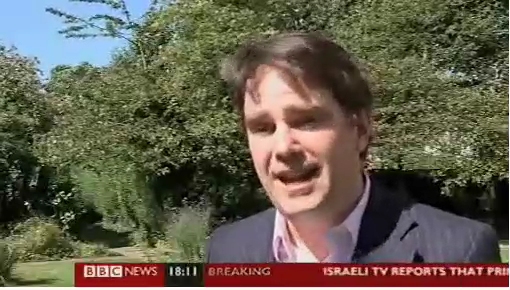 18:11 I'm on TV! BBC One no less! The channel of "Doctor Who", "Countryfile" and "The Antiques Roadshow"! Oh, that wasn't very long – and why am I squinting so much? Was it really that sunny?
18:32 I post this blog entry.
* BBC Oxford image source: Mark Hillary's Flickr photostream (Creative Commons 2.0)