My colleague Paul Baccas from SophosLabs has blogged about a number of webpages on news websites that have been infected by an SQL Injection attack designed to install malware onto users' computers.
One of the struck websites is NDTV.com, an Indian news website (New Delhi Television Limited), popular throughout the subcontinent.

One of the infected webpages on NDTV's website.
With the Olympic Games in Beijing starting in the last few days, it's perhaps particularly disturbing to find that many of the infected pages are carrying news stories about the sporting competition.
These webpages are, of course, likely to be getting a lot of visits at the moment as much of the world is following the Olympic Games closely. Hackers are especially keen to hit high traffic pages of the internet as it increases their potential pool of victims.
The common thread between these latest infections is AFP (Agence-France Presse), one of the oldest news agencies in the world. AFP syndicates its news content around the world, and like any other major global event there are hundreds of websites looking to have up-to-the-minute coverage about the Olympic Games.
One of the products that AFP makes available to its customers is a ready-made ".net" micro-website offering background to events at the games, including flash animations and descriptions of the rules of different sports. This rich digital content is a boon to websites that want to have customers coming back to their website time and time again.

AFP supplies clients with 'ready-to-publish' digital content about the Olympic Games.
In this instance it appears that Indian news website NDTV is syndicating AFP's ready-made Olympic content, but has not properly secured their backend ASP/SQL infrastructure to avoid their sites being "peppered" with an infection.
It's important to realise that AFP is not to blame – but if you are syndicating content around the web you might be wise to inform your customers and users of the importance of properly hardening their infrastructure to avoid bringing your company's name into disrepute.
Web surfers who visit the site without proper protection in place risk having malware installed on their computer.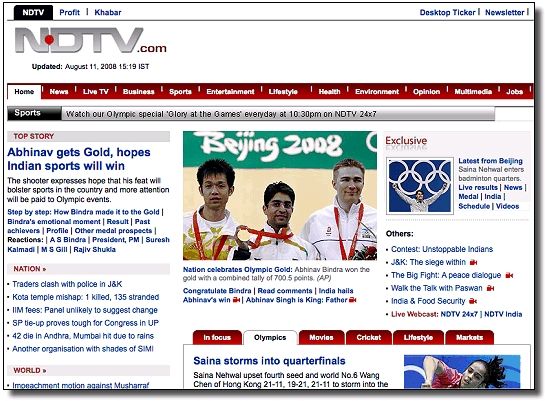 The Olympic Games section of NDTV's website has been struck by an SQL Injection attack.
Sophos has contacted NDTV to inform them of the problem. Websites owners who are concerned that their sites may be vulnerable to SQL Injection attacks are recommended to read Sophos's advice on how to reduce the chances of infection.