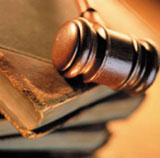 An interesting story has bubbled up from the Cambridgeshire area of East England, about a young chap who has escaped jail after being found guilty of involvement in a phishing scam.
18-year-old Ronaldas Janusevicius is reported has been struck with a community service sentence and ordered to pay over £600 in fines for his part in a criminal scheme which stole £9000 from an online bank account.
The innocent victim, a man named Benjamin Burnip, received a phishing email pretending to come from the Lloyds TSB, bank asking him to update his online banking credentials. Mr Burnip's bank account was subsequently hacked into, a loan requested, and his overdraft increased by £9000.
Curiously, Janusevicius claimed – and the court agreed with him – that he was not responsible for sending the email, and had not obtained the victim's bank account details. However, he did receive the stolen £9000 in his account. Janusevicius claimed that he had given his own bank account details to an unknown man who had transferred the money.
The mystery man also took the teenager to Leicester Square in London, where £603 was withdrawn from a Natwest cash machine.
So what was going on here? Well, the biggest criminal here is sadly the one we know nothing about: the unknown man. He was laundering the proceeds of his phishing scam through Janusevicius's account in order to save his own skin. Sure enough, when the bank investigated the stolen money, the trail lead to Janusevicius, and that's who the police questioned.
Yes, the teenager was stupid, and knew his partner in crime was up to no good, but it's probably right in this case that he wasn't given a prison sentence.
Janusevicius came to the UK in September last year, and after losing his job got himself into financial difficulties. It was at this point he became entangled in the phishing scheme, and found himself acting as a money mule for an identity thief.
This case is a salutory reminder that crime doesn't pay. Not only was Janusevicius found guilty and sentenced, but he also never received any payment from his criminal cohort.