Earlier this week I published a video about how the website of Britain's National Hi-Tech Crime Unit had been allowed to fade away by the Serious Organised Crime Association (SOCA), and how an opportunistic German had grabbed the domain for his own undefiined purposes.
The story of how a police website (widely linked to by the UK Home Office, the BBC, and many others) had been been abandoned and snapped up by an internet marketing company made a number of headlines in the press.
In a statement to a journalist from Techworld, SOCA admitted responsibility for allowing the domain registration to lapse and said it was "taking the necessary steps to remind partners and stakeholders that the NHTCU became SOCA e-crime in April 2006, and that they should confirm that web links and other references are amended accordingly."
One silver lining on this story is that it appears the media attention has prompted a change on www.nhtcu.org.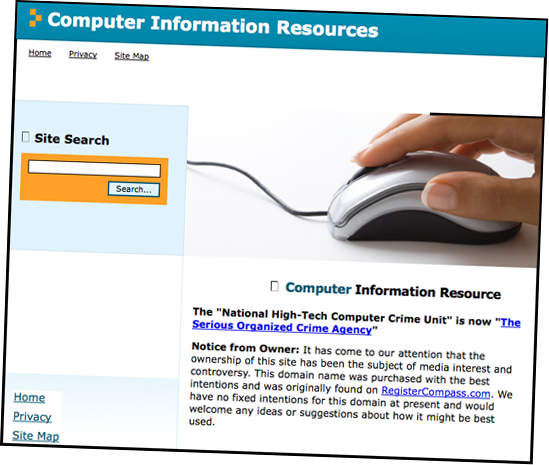 As you can see, the site no longer claims to be about "High Tech Crime", includes a prominent link to SOCA, the pictures of surveillance cameras have been removed, and no longer contains a bizarre tale of how the site's owner holidayed at a German hotel and found its security to be admirable.
The front page of the website now reads:
"Notice from Owner: It has come to our attention that the ownership of this site has been the subject of media interest and controversy."
Hmm.. I bet it has come to their attention! I wonder if it was a call from a British policeman which stirred them into action?
This domain name was purchased with the best intentions and was originally found on RegisterCompass.com. We have no fixed intentions for this domain at present and would welcome any ideas or suggestions about how it might be best used."
So, here's my suggestion to the site's owner – give the domain back to SOCA. Websites around the world are linking to www.nhtcu.org, expecting to find the National Hi-Tech Crime Unit or its successor. Ask SOCA for 20 Euros for your trouble to cover your expenses in transferring the domain, or do it out of the goodness of your heart.