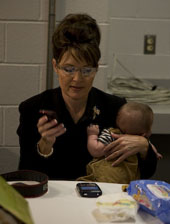 If you have been living in a cave since 29th August, you may have missed the news that US Presidential hopeful John McCain has chosen an Alaskan moose-burger-eating lipstick-wearing hockey mum as his running mate. Oh, and she's Governor of Alaska too.
Sarah Palin, like many other officials and business workers, uses email and the internet extensively to communicate, keep herself updated and schedule her activities. It was no surprise, therefore, to learn in the newspapers earlier this week that she has a web-email address, gov.palin@yahoo.com.
Word now reaches us that hackers claim to have broken into Sarah Palin's Yahoo account and posted examples of her emails, addresses of her contacts, and family photos on Wikileaks.
Acccording to the anonymous hackers, "Governor Palin has come under criticism for using private email accounts to conduct government business and in the process avoid transparency laws. The list of correspondence, together with the account name, appears to re-enforce the criticism."
In my view, if Sarah Palin did use her Yahoo address for official government business that was pretty silly of her. But in this case she has been the victim of a crime.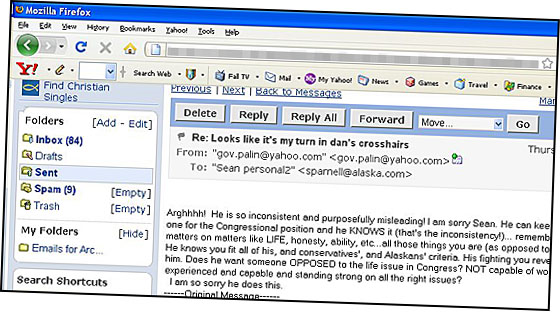 Breaking into Sarah Palin's Yahoo account is an offence. Yes, there may be interest in what she has been doing in her "private" email account but that is no excuse for breaching security and breaking the law. It's the job of the authorities to investigate if they believe any offence has been committed, not net vigilantes.
Of course, none of this explains exactly how Palin's email account was hacked. Did she access her Yahoo account from an insecure PC? Had she logged into her account using an unencrypted Wi-Fi connection in a public place? Had she chosen an easy-to-guess or easy-to-crack password (like a dictionary word)? Had she chosen the same password for every website she used? (Our research shows that 41% of people do precisely that).
Anyone who has an interest in the law being upheld should disapprove of these hackers' activities, regardless of their own political leanings. No-one deserves to have their email account illegally hacked.
By the way, Sarah Palin isn't the first public figure to have her email hacked. Watch this video: "Paris Hilton & Sarah Palin – what's the connection?".
(Image of Sarah Palin using her BlackBerry from www.mccainblogette.com.)