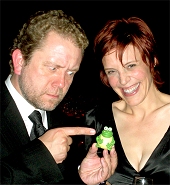 Last night, a galaxy of stars from the world of celebrity and the IT industry met in London for the prestigious CNET Networks UK Business Technology Awards. Oh, and a few of us from Sophos turned up too.
The awards, hosted by Jon Culshaw, the very funny TV impressionist and star of "Dead Ringers", honoured business leaders at London's Hilton Park Lane hotel.
Sophos's PR agency Johnson King won the Technology PR Campaign of the Year at the 2008 CNET Networks UK Business Technology Awards for its work with Sophos raising awareness about the security dangers of social networking.
Last year we aimed to teach people about the risk of identity theft online by creating a fake Facebook profile of a small plastic frog named "Freddi Staur" (an anagram of "ID Fraudster"). Sophos then sent out 200 friend requests to observe how many people would respond, and how much personal information could be gleaned from the respondents.
In the majority of cases, Freddi was able to gain access to respondents' photos of family and friends, information about likes/dislikes, hobbies, employer details and other personal facts. In addition, many users also disclosed the names of their spouses or partners, several included their complete resumes, while one user.. and this really beggars belief.. even divulged his mother's maiden name – information often requested by websites in order to retrieve account details.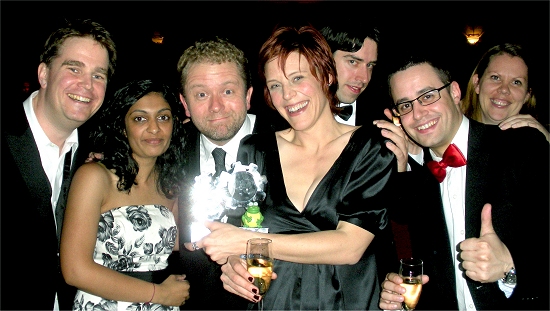 Sophos, Johnson King and Freddi Staur receive their super-shiny award from impressionist Jon Culshaw.
Winners last night in other categories included BT, RBS and Fiat. Mark Shuttleworth, founder of the Ubuntu Foundation, received the inaugural IT Community Hero of the Year award.
Earlier in 2008, the Facebook awareness campaign starring Freddi the Frog won Johnson King the title of "PR Company of the Year" at the SC Magazine Awards Europe. So I expect they're feeling quite chuffed with themselves today.
In the picture above you can see Sophos's Carole Theriault, sharing a special moment with impressionist Jon Culshaw and the diminutive Freddi Staur (who is, of course, a type of impersonator himself).