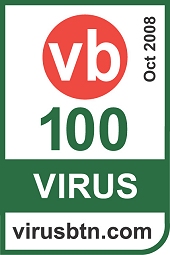 A drumroll! A fanfare of trumpets! A clatter of castanets!
Yes, good news folks – the October 2008 edition of Virus Bulletin magazine has just been published.
Why is this of interest? Well, it includes a test of 24 different anti-virus products. Even if you're not a Sophos user (shame on you!) then chances are that your anti-virus vendor* has been included in the extensive tests.
Sophos Endpoint Security and Control was one of the products to achieve the VB100 accolade, out-performing a number of rivals and successfully detecting all of the viruses in-the-wild without a false alarm problem.
This is the 43rd occasion that Sophos has won a VB100 award.
This issue of Virus Bulletin is out a little earlier in the month than usual, because the team are busying themselves with preparations for their annual conference, which is being held next week in Ottawa.
VB2008 is the anti-malware conference of the year – if you work in this business and you can only make one conference a year, this is the one to go to.
I'll be travelling to Canada early next week, as will hundreds of other anti-virus professionals from around the world, eager to listen to talks by some of the industry's leading experts.
VB2008 isn't all nerdy technical papers of course. There is also a lot of socialising, as anti-virus gurus and system administrators from all corners of the world fill every bar in the hotel, keen to share stories, gossip and try out the local beer.
I'll be blogging live from the conference – so check back regularly next week for the juicy gossip. If someone tries to get into a fight with Mikko Hyppönen by pulling his ponytail, or David Perry loses his luggage at the airport, you'll hear about it here first.

* Footnote: Well, unless you use Trend Micro's anti-virus products, as they chose to publicly withdraw from the Virus Bulletin tests earlier this year. They do, however, have staff speaking at the VB2008 conference next week so maybe differences between the two organisations will get ironed out in a late night Leonard Cohen sing-a-long session in the lobby..