Sorry for the delay in blogging about the latest goings-on at the Virus Bulletin conference in Ottawa, but this is turning out to be a vintage year.
The conference kicked off yesterday morning at the surprisingly restrained time of half past ten, with Virus Bulletin editor Helen Martin opening proceedings. Helen's "state of the nation" address discussed the growing problem of online threats, as she produced stats documenting the rise in phishing attacks and asked whether banks were doing enough to protect their customers.
After running through some of the other highlights that delegates could expect in the busy timetable (there are two main streams at Virus Bulletin conferences – the corporate and the technical – so inevitably you don't get to see all the talks), she handed the microphone over to Alex Eckelberry, CEO of Sunbelt Software who had the honour of giving the keynote speech this year.

After this strong start, the conference programme began proper, with papers presented on subjects as diverse as the Storm worm, MBR rootkits, memory-scanning on Windows NT, and affiliate web-based malware.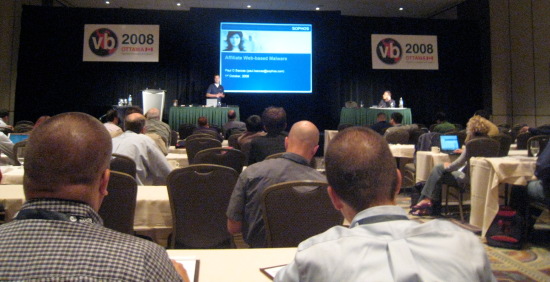 The talks given at Virus Bulletin are often interesting, but the main reason to come to the conference is really to get the opportunity to spend time with others in the industry and share expertise. And that's what happened on Wednesday night as delegates gathered at the welcome drinks reception ('welcome'? surely the 'welcome' should have been at 10:30am when we started? Hmm.. but maybe that was too early for drinks).
Rumour has it that some of the 300+ people attending the conference may have enjoyed the facilities until long past four o'clock in the morning. But not your obedient correspondent – oh no! For I had an even bigger day ahead of me, as you will read soon..