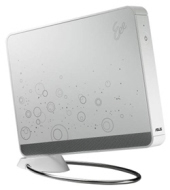 Asus has been making great strides in the computer marketplace in the last year or so with its popular subnotebook PCs. With its small dimensions and affordable pricing, the Asus Eee caused a storm and other vendors have rushed to produce similar devices.
I even bought an Asus Eee as a Christmas present for a member of my family. I wonder how Bill Gates and Steve Jobs are sleeping at night knowing that my mother-in-law is running Linux.
It's with a heavy heart then I find myself having to report that a member of the Asus Eee family has been caught spreading malware. (Read the Japanese-language press release about the incident from Asus).
The Asus Eee Box is the company's funky new slimline desktop PC, in the style of the Mac Mini that Apple came out with a few years ago. Asus has confirmed that some of the devices have accidentally shipped with a piece of Windows-based malware pre-installed.
How could this have happened to Asus? It's not clear at the moment whether all Asus Eee devices are affected or just a percentage. If it's all, then clearly the image that Asus are putting onto their hard drives has not been properly audited – but if only some are infected then it's possible that this was an issue introduced at quality control; perhaps a percentage of Asus Eee Boxes were tested on the conveyor belt for quality control reasons, using an infected USB stick.
Asus are far from the first vendor to have suffered from the problem of shipping malware. Last year, TomTom SatNav devices were found to be harbouring malware.
In October 2006 it was discovered that some Apple video iPods had shipped with the Troj/Bdoor-DIJ Trojan horse, and that the Japanese subsidiary of McDonald's was recalling 10,000 MP3 players after discovering that a spyware Trojan horse was contained on the devices.
Any new storage device which is attached to a computer should be checked for virus and other malware before use. Floppy disks, CD ROMs, USB keys, external hard drives and other devices are all capable of carrying malicious code which could infect the computers of innocent users.