The Federal Trade Commission has today convinced a court to shut down a major international spam operation, believed to have marketed bogus drugs to enhance male sexual performance, fake luxury watches and weight loss solutions.
Australia-based Lance Thomas Atkinson, a citizen of New Zealand, and US-based Jody Michael Smith are defendants in a case brought by the FTC, who claim to have received over three million complaints from people affected by the spam operation. Four companies owned by Atkinson and Smith (Inet Ventures Pty, Tango Pay Inc, Click Fision Inc, and Twobucks Trading Ltd) are also named in court documents.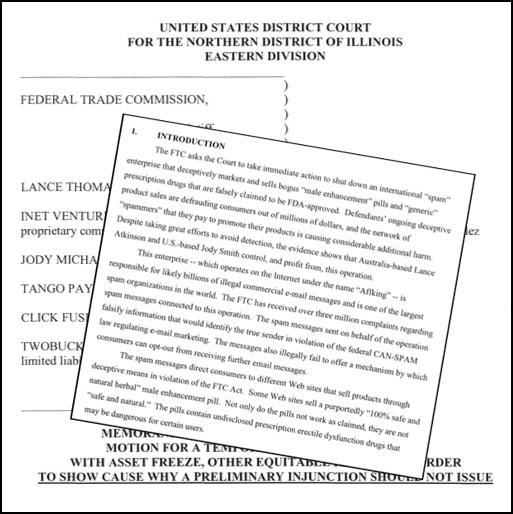 Many people who own an email address will be all too familiar with the sight of an email in their inbox offering them a "100% safe and natural herbal" male enhancement pill – but according to the FTC these drugs may not work as claimed, and may be dangerous for some people.
According to court documents, Atkinson and Smith run "Affking", one of the world's largest spam networks, and recruited spammers online to work for them.
In a breach of CAN-SPAM legislation, the bulk emails are said to have not included an opt-out mechanism for consumers, and contained spoofed sender information to disguise their true origin.
Interestingly, Lance Thomas Atkinson is not a name unknown to the spam-fighting community and the FTC. In April 2004, the FTC filed charges against Atkinson after a spam campaign promoting diet patches and anti-ageing creams. As a result of these charges Atkinson was fined US $2.2 million, but never paid up.
So what does this developing case mean to you and your inbox? Well, anyone hoping that they might find less spam in their email program tomorrow morning is probably going to be in for a disappointment. It's unlikely that action like this is going to result in a dramatic drop in the amount of spam you encounter – but the more effort that is taken to crack down on criminal spammers, the better for all of us.
It seems that the FTC are doing their bit to tackle the spam menace, and you can help to. Make sure your PC is properly defended with security software so it cannot be compromised by hackers and used to relay spam. And make sure that you sign up for the spam pledge, and never purchase goods advertised via spam email.