The last couple of days have seen a flurry of reports debunking a fast-spreading internet rumour that Tom Cruise had fallen to his death while filming in New Zealand.
According to the hoax news story, the pint-sized sofa-bouncing film star husband of Katie Holmes had plunged 20 metres to his death off Kauri Cliffs in New Zealand. Cruise's publicist Jeff Raymond was quick to pour cold water over the reports, claiming that rumours of the Mission Impossible star's death had been greatly exaggerated.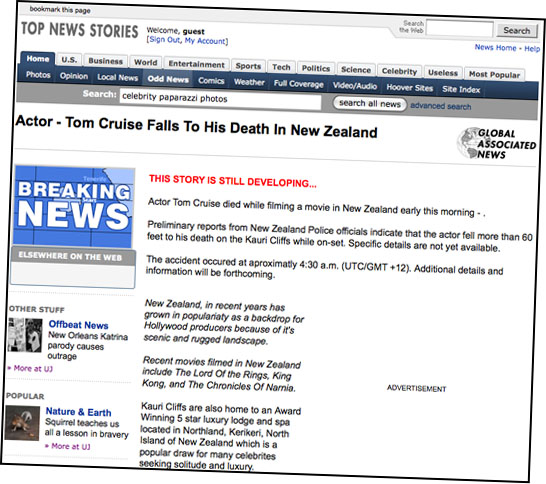 What's interesting to me is that a near identical hoax was spreading in 2006, but that time Tom Hanks was supposedly the movie star who had fallen off the cliffs. Hey! Shouldn't someone have put up a fence on these cliffs by now or scraped off the moss?
So, how are these hoaxes originating? I blogged on Friday about some of the different ways in which internet hoaxes are born, but this one is a bit different.
A somewhat tasteless website called www.fakeawish.com allows visitors to enter the name of anybody (famous or otherwise) and it automagically generates a fake news story about them. You can then send the link to your friends and family, pretending that it's true.
Yes, you're just rolling about with laughter right now aren't you? What a jolly jape..
Before you know it, someone is forwarding the story via email outside of its original content, or swearing it's true down the pub.. Oh well, at least it gives newspapers a reason to publish pictures of Cruise and his young bride, and another chance for us to remind people that they shouldn't believe everything they read on the internet.