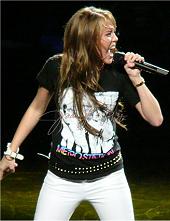 A hacker who posted candid photographs of Hannah Montana star Miley Cyrus on the internet was the subject of an FBI raid yesterday.
19-year-old Josh Holly, of Murfreesboro, Tennessee, boasted that he had broken into the Disney teen queen's email account and stolen photos – including, according to media reports, pictures of her baring her midriff in the shower, and "posing provactively" in her underwear and swimsuit.
According to Holly's previous statements, he broke into Cyrus's Gmail account to find the photos, and also illegally accessed areas of the MySpace social networking website. It is said that the daughter of "Achy Breaky Heart" legend Billy Ray Cyrus made the common mistake of using the same password for multiple websites.
It's pretty sick how some of the media has reported this incident. For instance, I found a video on YouTube (not linked to here) where a hip-hop radio station interviewed the hacker a while back and actually encouraged him to hack into other accounts on their behalf. It beggars belief why the radio station is allowed to get away with this, and include in their video some of the photos that were stolen.
In case you're not aware, Miley Cyrus is only 15 years old. Is no-one remembering this?
Anyway, back to the news. The FBI haven't arrested or charged Holly (who used screen names such as "TrainReq", "Rockz" and "h4x") with a crime as of yet, but they did confiscate three computers and a mobile phone.
Miley Cyrus is just the latest in a long line of high profile figures to have been caught with their pants down when it comes to securing their online identity. Maybe it's time we got back to basics, and ensured that everyone understood the importance of properly securing themselves when on the internet?
* Image source: Jade L Photo's Flickr photostream (Creative Commons 2.0)