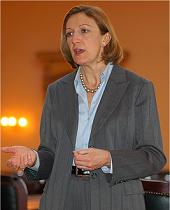 Jennifer Brunner, Secretary of State of Ohio, has confirmed that her official website was hacked earlier this week by unknown intruders.
Ms Brunner, a member of the Democrat party, says that no sensitive information was breached in the attack on the website, which was restored on Tuesday after a period of downtime.
What's particularly interesting about this case is that the State of Ohio has been involved in an almighty brouhaha with the Republican John McCain's election campaign after allegations of voter fraud. Ohio is considered by many in America to be a key state in the race to the White House.
There is speculation that the hack may be connected to the controversy, as Brunner's office has also been on the receiving end of offensive emails, phone calls and even a suspicious package containing an unidentified powder and a message saying "Death to Obama supporters".
Of course, if hackers were able to find a way to make changes to the Ohio Secretary of State's website then they possibly had the opportunity to install malware or commit identity theft too. There's no suggestion at this time that they succeed in doing that, but it's perhaps a timely reminder to all website owners to do everything they can to reduce the chances of their own website getting hacked.
Hackers motives may not always be financial – they can be political too..
* Image source: Spatulated's Flickr photostream (Creative Commons 2.0)