My guess is that many of you are still working hard on rolling that critical Microsoft security patch across your business – so here's a quirky story for you to cheer you up this Friday.
A Japanese player of the online interactive game "Maple Story" has been arrested by police after allegedly breaking into her virtual husband's account and killing his avatar.
According to media reports, the woman is suspected of carrying out the virtual murder after her fellow player and online love "divorced" her in the game without warning.
It sounds as though her 33-year-old Sapporo-based office worker victim (who no doubt was 6 foot 4, and rippling with muscles in the online game) was careless and shared too much information with his one-time internet lover, which helped her break into his account and kill his character when the relationship turned sour. He subsequently complained to police, who arrested the woman on Wednesday at her home in southern Miyazaki.
We've seen hackers break into virtual games before of course – sometimes to cause mischief, but other times to steal virtual goods that they then sell for profit. Indeed, it's surprising how much money can be made by selling "virtual gold" online to fellow games players.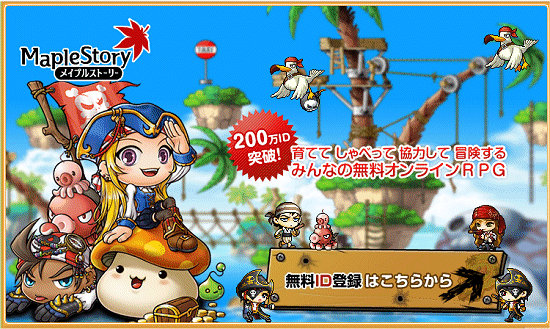 I'd never heard of "Maple Story" before (I'm so unhip..) but apparently it's a lot like other MMORPGs, albeit in 2D rather than the 3D world of "World of Warcraft" or "Second Life". Judging by the screenshot of its Japanese homepage above, though, it's also a fair bit cuter.
Anyway, a useful reminder to all us chaps that hell has no fury like a woman scorned. And doubly so, it seems, if the internet is involved. So make sure that you choose your passwords sensibly, and always keep them secure, unless you want to end up as the murder victim on a virtual crime scene.