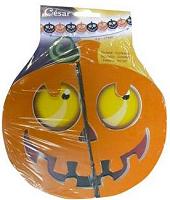 Uh-oh. It's October 31st. And you know what that means.
Halloween.
Yes, it's time for all of us without children to turn all the lights off in the house and hide under the bed in case teenagers come knocking on our door demanding treats with menaces.
There's something cute about it when it's six-year-olds ringing your doorbell, covered in bedsheets or wearing false vampire fangs, but when they're happy-slappy ringtone-downloading ASBO-carrying hoodies loitering on your doorstep this particular annual ritual loses some of its sparkle.
Of course, some adults like to dress up for Halloween in fancy dress for a spooky party . You may well have chosen to do something like that and gone to an online store to book your costume.
Lets hope you didn't pick up more than a Frankenstein costume – here are just a handful of the Halloween-related websites that we have discovered are carrying a malware infection at the moment:
Visiting these websites puts your Windows computer at risk of infection by a hacker, and have your PC compromised and perhaps even your identity stolen. You can find more information about these infected websites in a blog post that Pob of SophosLabs made earlier today.
We thought about making a little video about what viruses get up to on Halloween. Perhaps it's the one night of the year when malware can creep out of the back of computers and run amok inside our virus labs. We were even trying to convince Vinny, one of our security guards, to be filmed at midnight coming across the rampaging viruses with just his torch and a sturdy baguette for protection.
But it's been a hectic week, and there just hasn't been time to fit it in. And anyway, when we saw this video comedy gorefest about an Apple Mac virus outbreak on Halloween we knew we couldn't do any better:
Maybe I sounded too much like a kill-joy about Halloween above, and you might be disappointed we didn't make our own video this time. Sophos did play its little part in adding to the seasonal fun though, by protecting Groupe César (link to translated version of article), a company that has been making masks since the 1800s.
With over 1300 employees and bases around the world, César has a vast catalog of masks and disguises – so you can imagine that this is a very busy time of year for them. But just because they are in the business of fun and dressing-up, doesn't mean they take a the defence of their computers any less seriously.
It's important to remember, of course, that computer security is a problem all year round, not just on Halloween.