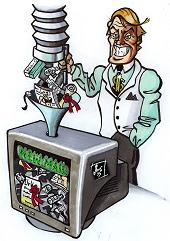 Some people leave their job with a chip on their shoulder – but not many would go so far as to hack into their ex-employees' computer servers and open them up for spammers. At least I hope not.
37-year-old Steven John Barnes of Mill Valley, San Francisco, used to work as an IT manager at internet media company Blue Falcon Networks (now known as Akimbo Systems) between September 2002 and April 2003.
Later that year, Barnes hacked into the firm's computer system using a still active password, turning the server into a open-relay through which spammers could spew out pornographic and malicious viral emails. As a result, Blue Falcon was blacklisted by some anti-spam services, preventing the company from communicating with its customers.
He pleaded guilty in March to unauthorized access into a protected computer, recklessly causing damage.
Barnes will begin serving his time in jail on January 8 2009. By boosting his sentence beyond a year, Barnes will be eligible to reduce his prison term by a few weeks for good behaviour.
Barnes may have worried that it would look bad when he applied for new jobs that he had been sacked from Blue Falcon, but it will probably look worse that he spent time in jail after taking revenge on a former employer.
This case reminds me a little of a bizarre story that played out in front of the world's media earlier this year. In case you missed it, an IT technician was accused of holding the city of San Francisco hostage after setting a secret password for the city government's multi-million dollar network. 43-year-old Terry Childs was reported to have acted after being disciplined in the workplace.