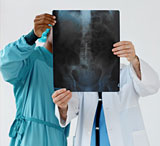 The London hospitals struck by a infection of the Mytob worm earlier this week are returning to normal operation, according to The Register.
St Bartholomew's (Barts) in the City, the Royal London Hospital in Whitechapel and the London Chest Hospital in Bethnal Green had their networks shut down at the beginning of the week, following an outbreak of the computer worm which is capable of stealing information, and giving access to remote hackers.
The case reminds me a little of what happened to the Northwest Hospital and Medical Center in north Seattle in January 2005. When it found 150 of its 1100 computers were infected with a piece of malware, they also put emergency backup measures in place. The facility's intensive care unit was shut down, doctors' pagers were prevented from working properly, and nurses are said to have run charts down hallways rather than transferring them electronically.
The following year, a 20-year-old hacker was sentenced to three years in jail and a $250,000 fine after being found guilty of the attack.
Anyone who still thinks that virus-writing is "mostly harmless" and only really impacts the foolish who don't have backups, should consider what the possible consequences of taking down a hospital network might mean.