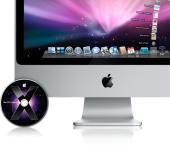 Now this is very curious.
As you may have seen, there has been a flurry of stories today pointing out that Apple actually told the world that running anti-virus software on their Macs was a good idea back in mid 2007.
Somehow, some Mac lovers have turned this into a debate into whether journalists and bloggers were lazy in not checking their facts. That's a reasonable discussion to have of course. But some of the message boards and blogs are getting clogged up with Mac fans apparently using the "this wasn't news" argument as a smokescreen from the fact that Apple *has* been reminding their customers to use anti-virus software for some time.
Whether it be to protect against Mac malware, or to be a responsible member of the internet community, and stop them from passing Windows malware on to their friends and colleagues, it makes sense to protect your Mac from hackers and malware.
What's curious now is that Apple has zapped the support advisory which started this entire debate off its website. All you get now is a "not found" message if you follow the link:

Furthermore, an Apple spokesperson has been quoted in the press saying:
"We have removed the KnowledgeBase article because it was old and inaccurate. The Mac is designed with built-in technologies that provide protection against malicious software and security threats right out of the box." – Apple spokesman Bill Evans, Macworld, 3 December 2008.
The only possible inaccuracies I saw in the original Apple support article was that poorly chosen language could be interpreted as advising that Mac users use multiple anti-virus products on the same computer, and that the list of security vendors was not comprehensive.
So I'm disappointed to see that the support advisory has been withdrawn after 18 months, rather than had some minor fixes.
Although I agree with Bill that the Apple Mac does include some cool built-in technology to help protect against security threats, these can be circumvented through simple social engineering tricks that we see used by Windows malware every day.
The danger isn't in the operating system so much, but in the user.
To his credit, Bill does go on to say:
"Since no system can be 100% immune from every threat, running anti-virus software may offer additional protection."
Although I would probably say "can" or "will" rather than "may".