We saw yet another example of an email-based scareware (fake anti-virus software) campaign this morning, which has also caught the eye of AusCERT.
The bad guys are sending out messages with the subject line "Important message for you", posing as a support desk, and saying that your computer has been identified as being infected by a file-infecting virus (which they call W.744.A). This one goes so far as to name check Sophos, as well as the folks at Symantec, McAfee, Avira and Kaspersky.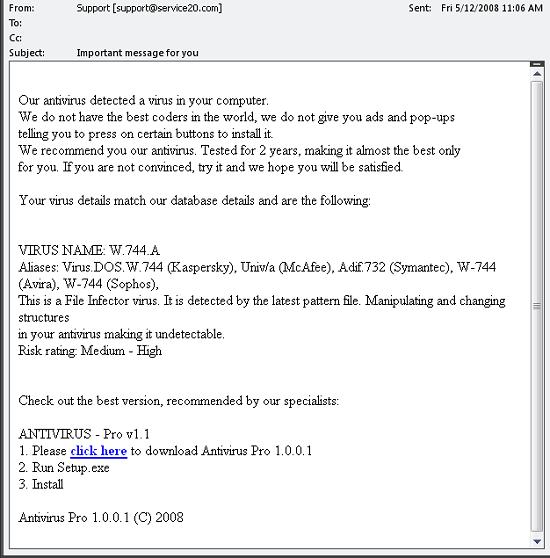 Of course, the website and product that the email links to are designed to hornswoggle you, and compromise your computer systems.
We detect the malware linked to in these email as Troj/FakeVir-HX. But if you are running our email or web protection solutions then they are also intercepted. Users of other anti-virus products might be wise to check with their vendor whether protection is available.
PS. You have to laugh at the lines "We do not have the best coders in the world" and "Tested for 2 years, making it almost the best only for you".