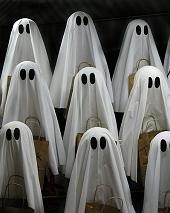 A US District Court has temporarily halted the operations of two firms accused of tricking internet users into buying bogus security products (also known as scareware or rogueware).
According to a statement by the Federal Trade Commission, Innovative Marketing and ByteHosting Internet Services tricked more than one million internet users into purchasing security software products such as DriveCleaner, ErrorSafe, WinAntivirus, WinFixer and XP Antivirus.
The two companies, alongside Daniel Sundin, Sam Jain, Marc D'Souza, Kristy Ross, and James Reno, are accused of misrepresenting the security of consumers' computers by displaying fake security alerts.
A sixth individual, Maurice D'Souza, has been named as receiving proceeds from the scheme.
As we described in the Sophos Security Threat Report 2009 which we published earlier this week, scareware is a growing phenomenon.
Typically planted on websites in the form of pop-up adverts, disguised as a legitimate download, or spammed out via email, scareware tries to frighten users into believing that their PC or Apple Mac has been compromised by malware, or has potential security issues, or is carrying pornography.
The scareware that "finds" the alleged problems with your computer then attempts to convince you that the answer is to spend some hard cash to restore your PC or Mac to its pristine state by – of course – purchasing the product they recommend.
It's a scam that we see attempted constantly online, and it's clearly working for the bad guys judging by the increase in activity we've been seeing in this area. It is, therefore, very positive news to see the authorities taking the threat seriously and pursuing legal action against those who it believes to be responsible.
Earlier this month, the FTC published information for consumers warning them about the dangers of fake internet security scans.
* Image source: peasap's Flickr photostream (Creative Commons 2.0)