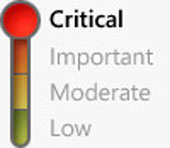 Microsoft has kept the promise it made yesterday and released the much-desired critical security patch for versions of Internet Explorer (Microsoft Security Bulletin MS08-078).
Microsoft must have been working furiously around-the-clock to develop and test this emergency fix as soon as possible. After all, a problem like this is not just dangerous for the internet community and online shoppers, it's also damaging to the reputation of Windows.
As hackers are actively exploiting the vulnerability to silently install malware onto users' computers, it is essential that Internet Explorer users roll out this patch as a matter of priority.
Stop reading this blog entry. Download and install the patch.