Many offices around the world are beginning to wind down for the holidays, but the spammers never sleep.
Here is an example of a spammer's seasonal snow-covered sales pitch that was caught in our spam traps this morning:
You may be a little optimistic if you really believe that this spam gang will be able to deliver you some little blue pills to improve your performance in the bedroom in time for Christmas, but the spammers clearly still believe there is a market out there.
Note that this particular example of spam promoting an online drugs store uses the subject line "I need you, urgently!". Other subject lines we've seen used in this campaign in the last day include "I lost your cell number", "It's my new mail", "I got lost in your town", "Help me, lost your ICQ", "I lost you keys, sorry", "Meet me in airport", and "Our boss asked for you".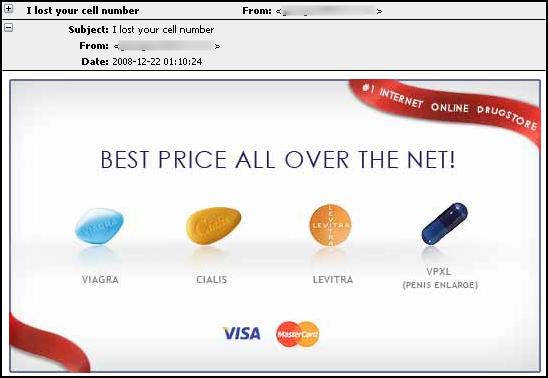 Of course, you would have to be foolhardy to ever buy drugs and medications via the internet. Not only are you encouraging the spammers to continue their unsavoury activities, but how can you be sure that you'll be sent legitimate medications?
These guys have already shown that they are prepared to break the law by compromising innocent people's computers and showing bogus "from" details in their email, so why would they baulk at posting you dodgy drugs too?
Don't put your health at risk, never buy goods sold via spam, and have yourself a safe and happy Christmas.