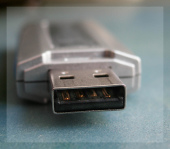 A newspaper in South Wales is reporting that an employee of Neath Port Talbot council has lost a memory stick containing confidential information about vulnerable children.
The council is refusing to comment on the incident until its investigations are complete, but an foster carer has told newspapers that the details stored on the USB drive could put the young children in danger.
The carer, who has chosen to remain anonymous, told the South Wales Evening Post that the children he cared for were "end-of-the-line kids… If the people around here knew about their backgrounds, I would probably get a brick through the window… In some cases if the information got out, it could put them at risk."
Sadly, and somewhat predictably, there is once again no mention of encryption, which could clearly have reduced the chances of the lost memory stick's data falling into the wrong hands.
I really hope that more organisations will wake up in 2009 to the urgent need for important and sensitive data to be properly encrypted. There have simply been far too many stories during 2008 of data losses which could have been mitigated if simple security had been put in place.