Today, I am in work with Mathieu and we are processing any spam that the automated systems don't already block and analysing any malware that we don't already proactively detect – actually Mathieu is doing the hard work whilst I do the easy work. I am pleased to be able to report that it is relatively quiet.
Whilst it is quiet I have had a look at my personal catch rate. I have blogged about this before here and I thought I should check out how it has fared since McColo was taken down. Several of the SophosLabs guys reported on this back in November – here, here and here.
Here is the graph of my catch rate since 1 Oct 2008.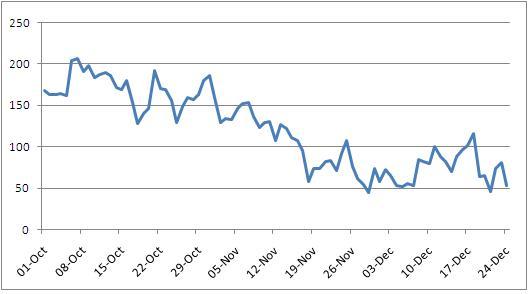 From my previous post you can see that spam goes in cycles over time and it was already starting to decline from an average of 170 messages a day but once McColo was shut down it averaged 70 per day. Since then, despite the Rustock botnet being revived, my personal catch rate has not changed significantly.
One last point, I was wondering whether spam declined or increased close to Christmas. I'll leave you to interpret the graph as you see fit but I reckon there was an increase in early December but it has probably now fallen back to it's late November level. In the meantime there is still plenty of spam and malware being written and Sean reported earlier today on what he was seeing. From my perspective, watching the spam systems, I am left wondering just how much viagra one person can handle…
Have a great, and safe, Christmas.