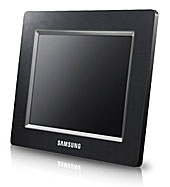 They're being sold up and down the high street, but if the latest reports are true then it may be the last thing you want to find yourself unwrapping under the Christmas tree on December 25th.
According to reports on SecurityFocus and elsewhere, purchasers of Samsung's SPF-85H 8-Inch Digital Photo Frame have been warned that software pre-installed on the devices may be infected by the Sality worm.
Samsung appears to have published information about the incident on its website on December 2nd, but it seems that users are still buying the devices via popular online stores such as Amazon.com, as this report from the SANS Internet Storm Center reveals.
It's great that Amazon.com is warning purchasers of the danger but wouldn't it have been better if the affected devices had been taken off the market?
This isn't the first time that a gizmo like this has come with a pre-installed virus of course. Readers with good memories may recall that in January 2008 we warned of infected digital photo frames being sold by Best Buy.
Other consumer gadgets to have been affected by malware in the past include the TomTom satellite navigation device and Apple Video iPods. In 2006, the Japanese subsidiary of McDonald's recalled 10,000 MP3 players after discovering that they had been infected by a spyware Trojan horse.
The lesson is simple – check everything that you plug into your computer for viruses, even if it has been freshly bought from a reputable vendor.