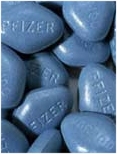 We've grown to think of spammers and other internet bad guys as finely-honed organised criminals, quick to use new avenues to make a quick buck, and rapid in their exploitation of breaking news stories and emerging trends.
It's therefore surprising to me that we have seen spammers doing such a poor job at profiteering from an apparent virgin market for Viagra. Afghan chieftains.
According to a report in the Washington Post, the CIA has discovered a novel way to extract information from ageing Afghan warlords – supplying them with the sex-enhancing drug Viagra.
The report describes how, in one case, a warlord in his sixties with four younger wives was given four pills of the anti-impotence drug. Four days later he returned for more in exchange for detailed information on Taliban movements. The news story explains that often the CIA operatives need to explain the benefits of Viagra to their informants.
The CIA has historically often bought information with cash, but can backfire if the informant is then seen surrounded by expensive goods or acts ostentatiously. On the other hand, Viagra – as the Washington Post so delicately puts it – "leaves little or no visible trace".
So it seems to me that while much of the rest of the world is under near constant bombardment from spammers trying to tout Viagra and other sex-enhancement pharmaceutical drugs to us, the Aghan people have been largely left alone. I knew there had to be some silver lining to living in that troubled country.