I was fortunate enough to spend the last couple of days wandering the chilly streets of Prague. It's a beautiful city, and if you ever get the chance to visit I'd recommend it.
It was pretty strange though flying out of the Czech Republic as the last hours of 2008 ticked away. All the shops at the airport seemed to be shutting up by 4pm, presumably so the workers could get themselves uttery banjoed in readiness for the midnight New Year's celebrations.
And this left the passengers on a delayed flight to Leeds kicking their heels with nothing to do but throng around the one remaining coffee bar that was still open.
Mattoni Bar at Terminal One of Prague Airport runs a neat little "buy a drink and use one of our internet-connected computers for free" deal. Naturally with hours to waste until their flight to Leeds, and with no retail therapy opportunities to distract people, the computers were all constantly in use.
With my BlackBerry out of juice, I quite fancied using one of the cafe's PCs myself to check out the news online, but the most I could manage was some shoulder-surfing, and that – of course – is when I began to see some dangerous behaviour.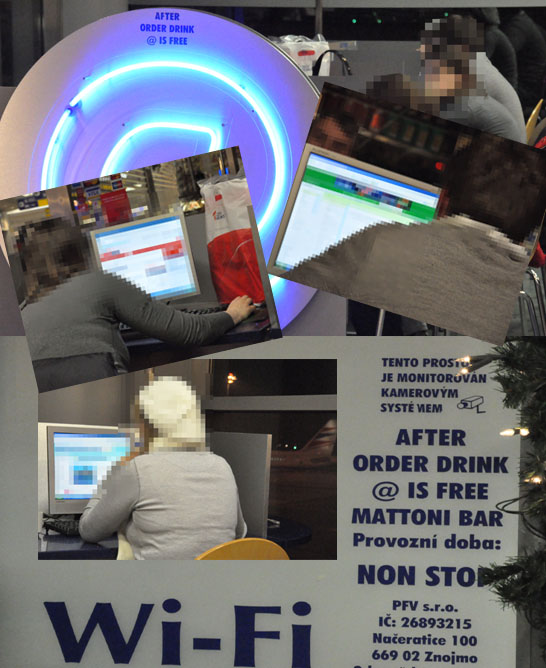 From my position in the cafe, I could see that one woman was booking a holiday through a well-known travel website, another was checking her HSBC bank account, and one chap was checking his Windows Live Hotmail account (before also checking his HSBC bank balance).
That was just what I noticed in less than 10 minutes. Who can tell how much sensitive information is entered onto these computers in a typical day? And. by the way, I'm not picking on this particular internet cafe, as similar scenes are probably playing out at every cybercafe in the world.
Computers in internet cafes can be tremendously useful and even entertaining if you need to while away some hours, but I would never use them to log in to my personal email account or check my bank balance. The fact is that you simply cannot be confident that an internet cafe's computer, which may have been used by scores of different people during the course of the day, hasn't been compromised and might not contain malware that is grabbing your details as you surf the web.
Fortunately for me I wasn't flying back to Leeds, so I was able to catch my flight home without delay. But it also means I never did find out if those computers were compromised or not.
Don't take the risk in 2009 – start acting more sensibly with public access computers.