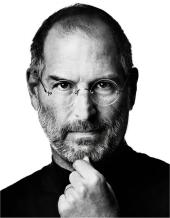 For some time now there has been speculation on the internet about the health of Steve Jobs, CEO of Apple, following what appeared to be a substantial loss of weight.
Indeed, the whispers and rumours have sent shivers down the spines of some people who have invested in Apple stock.
Of course, things weren't helped when Bloomberg accidentally published his obituary.
So, when it was announced that in an unusual move Jobs – who has suffered from pancreatic cancer in the past – would not be giving the keynote presentation at this week's Macworld conference in San Francisco, tongues began to wag again.
In fact, the rumour mill began to stir up to such an extent that the notoriously private Jobs took the unusual step of issuing a statement about his health on the Apple website, saying that he was suffering from a hormone imbalance.
By acknowledging the issue, Apple was able to revert attention back to where it wanted: its announcements at the opening day of Macworld.
The technology media were there in force to report the keynote address given by Phil Schiller (Steve Jobs's stand-in), and a number of Apple-watching websites published live feeds containing details of the announcements second-by-second.
Unfortunately one popular website, MacRumors, hadn't done a good enough job in securing its live feed, and hackers were able to inject their own comments – including claims that Steve Jobs had died: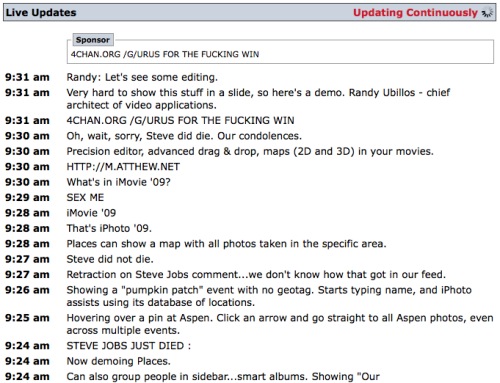 The problem got so bad that they froze and removed the feed, and published an apology on their website.
This is just the latest in a long line of very public hacks. It may not have caused any financial loss, and no data appears to have been stolen from MacRumors users, but it has left another website with egg on their face.
(By the way, it should go without saying that we wish Steve Jobs a full and speedy recovery)
Hacked feed image source: Mobodojo.