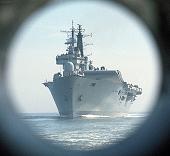 According to media reports, the British Ministry of Defence has confirmed that computer systems on board ships in the Royal Navy Fleet have been severely disrupted by a computer virus outbreak.
The Royal Navy has been understandably keen to stress that weaponry and navigation systems have not been affected by the outbreak.
Reports from Portsmouth, the home town of the navy's flagship HMS Ark Royal, have revealed that the major impact has been felt by sailors unable to communicate via email with their friends and family on shore.
One sailor, who presumably asked the newspaper not to name him in case he was ordered to walk the plank, has described the situation as "utter chaos".
The Royal Navy gave a statement to The Register confirming the infection, but declined to give further details for security reasons:
Since 6 Jan 09 the performance of the MOD IT systems in a number of areas was affected by a virus. Immediate action was taken to isolate the problem to stop the virus from spreading. This meant that some people were without regular IT access (ie. email, internet). There have been no infections detected on any networks with sensitive information.

A solution to prevent re-infection has been tested and implemented. The majority of systems are working normally. This is an ongoing process which we are working urgently on so for those people who are still off line normal business will resume as quickly as possible.
Although it's hard to know what precisely happened in this case, this incident surely underlines the importance for all organisations to make sure that they are practising err.. defence in depth.
Jokes aside, there is a serious point here. All of us, whether we are individuals, small companies, multinationals, governments or military agencies, need to put proper protection and policies in place to reduce the risks of a surprise attack.
It seems unlikely that the Royal Navy was specifically targeted by hackers – my hunch is that it's more likely that a human error or lapse in security accidentally let a virus or worm spread across the systems – but we would expect those bodies responsible for the security of the country to have proper defences in place.