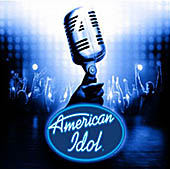 The world can thank Great Britain for some great inventions: William Shakespeare, The Beatles, the hovercraft and err.. pop talent shows hosted by Simon Cowell.
American Idol, which tops the charts in the United States, fascinating viewers with Cowell's high waist-line and sardonic putdowns, finds itself in the middle of controversy this week as it was the subject of a widespread spam campaign sent to "a significant number" of AT&T's cellphone customers.
As the New York Times reported, American Idol's telecom sponsor, AT&T, sent out a tidalwave of adverts to their mobile users advertising the TV show.
Mark Siegel, a spokesman for AT&T Wireless, explained that his company wanted "people to watch the show and participate. It makes perfect sense to use texting to tell people about a show built on texting."
What he hasn't said, of course, is that only AT&T customers are allowed to vote by text message in the American edition of the show, and so the mobile phone network provider has a vested financial interest in boosting viewers' participation in the show.
As the following video shows, complaints from cellphone owners – infuriatated by what they saw as spam – flooded onto online forums like Twitter:
(Enjoy this video? You can check out more on the SophosLabs YouTube channel and subscribe if you like)
Spam on mobile phones is nothing like as common as email spam of course. But we still saw some interesting reports of cellphone spam last year, including the staggering statistic that over 353 billion cellphone spam messages are sent each year in China. In this case, of course, AT&T might argue that they worked inside the law because they gave recipients a way of opting out of further messages.
But that doesn't change the fact that they have annoyed many of their users, and not done the television programme any good either.
Just because it's easy to send an unsolicited bulk-message to your users doesn't mean you should.