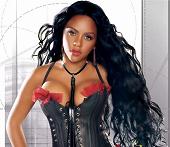 What is with all these rap stars and computer security?
No sooner do I finish blogging about the problems Kanye West is facing with his compromised Gmail, Twitter and MySpace accounts than I hear that his fellow rapper Lil' Kim is having Web 2.0 security issues of her own.
The Grammy award-winning singer is claiming that her Facebook page was recently hacked, after a blog post appeared there describing actress Naturi Naughton as "tasteless and talentless".
Here is what was reported to have been posted on Lil' Kim's official Facebook page:
I wasn't even able to choose who I wanted to portray me in this movie. I would have never picked Naturi, she doesn't have a Lil' Kim aura at all! She looks nothing like I looked back then. We have NO similarities. Watching her on-screen was so 'dreadful' as Simon Cowell would say. She is tasteless and talentless. Never once did she contact me for input or to get a feel of me for the character. A TRUE actress would contact the source to be the best they can be in portraying someone. That told me right there, she wasn't right for the part and not to mention, Naturi has got to be one of THE worst actresses I've ever seen and I can't believe they chose her.
It's understandable that Lil' Kim's lawyers (who have certainly been busy looking after their client in the past) would be keen to emphasise that they were not her own opinions, but that of a hacker.